First of all, happy day-off-of-work for most of you lucky, lucky people!
I've told myself that I wasn't going to blog every day. I did particiapte in a couple of those "Blog every day in July" prompts, but for the most part, I was determined not to blog on the weekend.
But I need this motivation right now. So, when Whitney announced that she was starting a September challenge, I immediately knew I'd be jumping on board. I may not follow these prompts every single day (as I already have some posts already planned for September), but I'll be blogging every weekday. Or at least, that's the plan.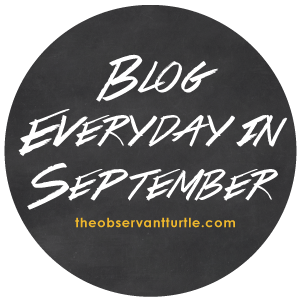 Today's prompt:  Reintroduce yourself to your readers. Tell us what you want to get out of blogging everyday in September.
So, hi. I'm Becca.
I'm twenty-seven years old (I'll avoid saying "twenty-something" just because I feel like that's said a lot in blog world).
You've probably caught on that my last name is Dorr (hence the punny blog name), thanks to my husband, Tim. We got married a little over a year ago, on August 17, 2013. There are some posts around here about that.
Tim and I don't have any kids yet, but we do have a dog and three cats. It's a lot more work than you think to have so many animals. There's always at least one who won't stop meowing at me. If I were going to add another animal to the zoo right now, it would either be a Sheltie or a parakeet. But I don't think it's actually a good idea to get a parakeet when we have three cats in the house. Especially since Tres keeps bringing home small animals.
I grew up in Carrollton, Texas (it's close to Dallas), until the day when my parents packed us up to move to Georgia (closer to family, they said) when I was 10 and my brother was 16. At those ages, in the middle of the school year, it was absolutely traumatic. I always said I wanted to go back, but now that idea seems weird.
I'm not a huge fan of celebrities in general. However, if we're going back to middle school my male celeb crushes are: Butch Walker, Chad Michael Murray, Shane West, and Nick Carter. Nick almost got bumped off the list after dating Paris Hilton, but I've since forgiven him.
I'm a little bit of a makeup addict, as you might notice, especially if you follow me on Instagram. I don't own as much makeup as most youtube beauty vloggers, but I probably own more than the average person. I spend a lot of time watching those youtube videos, too.
I'm also a self-declared TV addict. I have an app to keep track of my shows, and I'm eager for fall TV to start. We're so close!!
I don't like coffee (I really wish I did thanks to Gilmore Girls), but I will have caffeine withdrawals if I don't get my Dr Pepper. I should probably quit. One day?